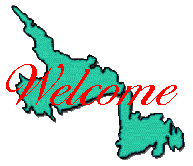 to the
NEWFIE BULLET'S
Traditional Songs of Newfoundland

Feller From Fortune

Oh, there's lots of fish in Bonavista Harbour

Lots of fish right in around here

Boys and girls are fishin' together

Forty-five from Carbonear.


Oh - Catch-a-hold this one,

Swing around this one, swing around she;

Dance around this one, dance around that one,

Diddle dum this one, diddle dum dee.



Where the hag-downs sail and the foghorns wail

With my friends the Browns and the Clearys.

Let me fish off Cape St. Mary's.

Let me feel my dory lift

To the broad Atlantic Combers

Where the rip tides swirl and the wild ducks swirl

Where Old Neptune calls the numbers

'Neath the broad Atlantic Combers.
Thanks for visiting my pages. Any comments or suggestions would be greatly appreciated.
Omissions and errors would most gladly be corrected.
---