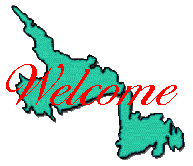 to the
NEWFIE BULLET
These pages are my little piece
of the 'rock'.

These pages are my first try at a homepage. I know nothing about the HTML language except for what I read on the net.. It's fun but slow. First, you run into a problem or want to do something. Then, you start reading, trying to figure it out as you go along. Eventually finding an answer.
Let me know what you would like to see and read about Newfoundland and I will try to do something about it.
---
Traditional Songs of Newfoundland. Many a time you know the tune but just can't remember the words. Now you don't have to hum along, just refresh your memory here.

Schools on the net. Ever wonder if your old school is on the net? Maybe some younger 'surfers' would like to have some e-mail pals or keyboard pals. If they are not pen pals, what are they?

Homepages of Newfoundlanders. Here you will find homepages of Newfoundlanders, at home and abroad. Maybe, among these listings you will find a long lost friend, or a new one. I've used every resource the net has to offer to find these and most links were verified, but some omissions and errors are bound to creep in. Let me know if I missed anybody you know.

Coming soon! Recipe Pages, Story

Pages and Picture Pages (I don't even

own a camera yet). Also, anything else

that space permits.
Thanks for visiting my pages. Any comments or suggestions would be greatly appreciated.
Omissions and errors would most gladly be corrected.
---